Amazing Features
Responsive & optimized for mobile devices.
Made easy for employees of all kinds!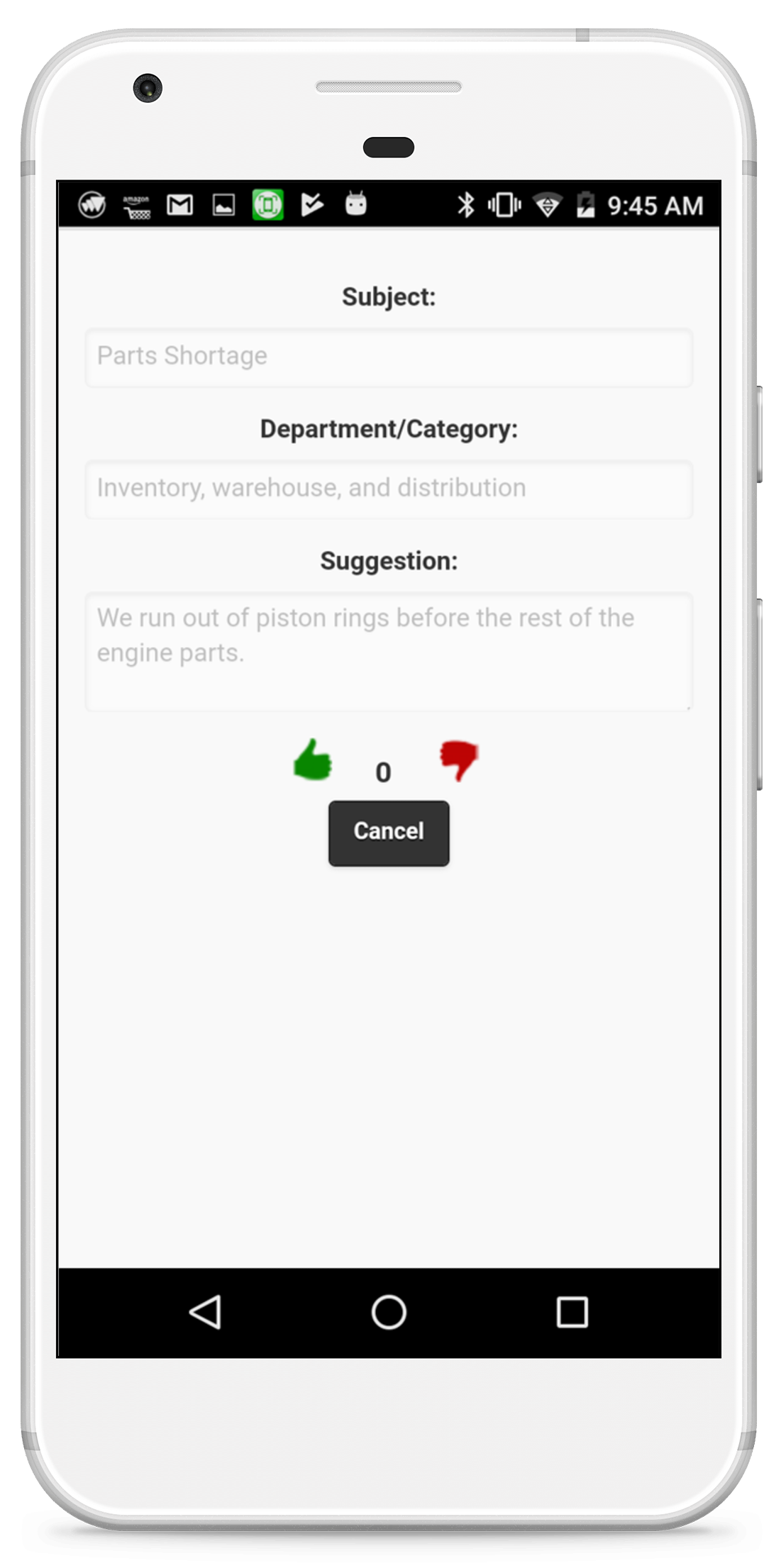 Endorsements of DirectSuggest
"I am confident, based on the functionality you showed me, that DirectSuggest will make a positive and measurable impact on idea-sharing in any company who implements it."
Pat Smith, CEO at Designed Learning (The Peter Block Company)
● ● ●
"You have a tool that could literally be the 'continuous monitoring' of perceived human & organizational performance, critical observations, insights & ideas for an organization. "
Jay Murillo, The Fulfillment Strategy Group and formerly Principal Consultant for Jack Welch Institute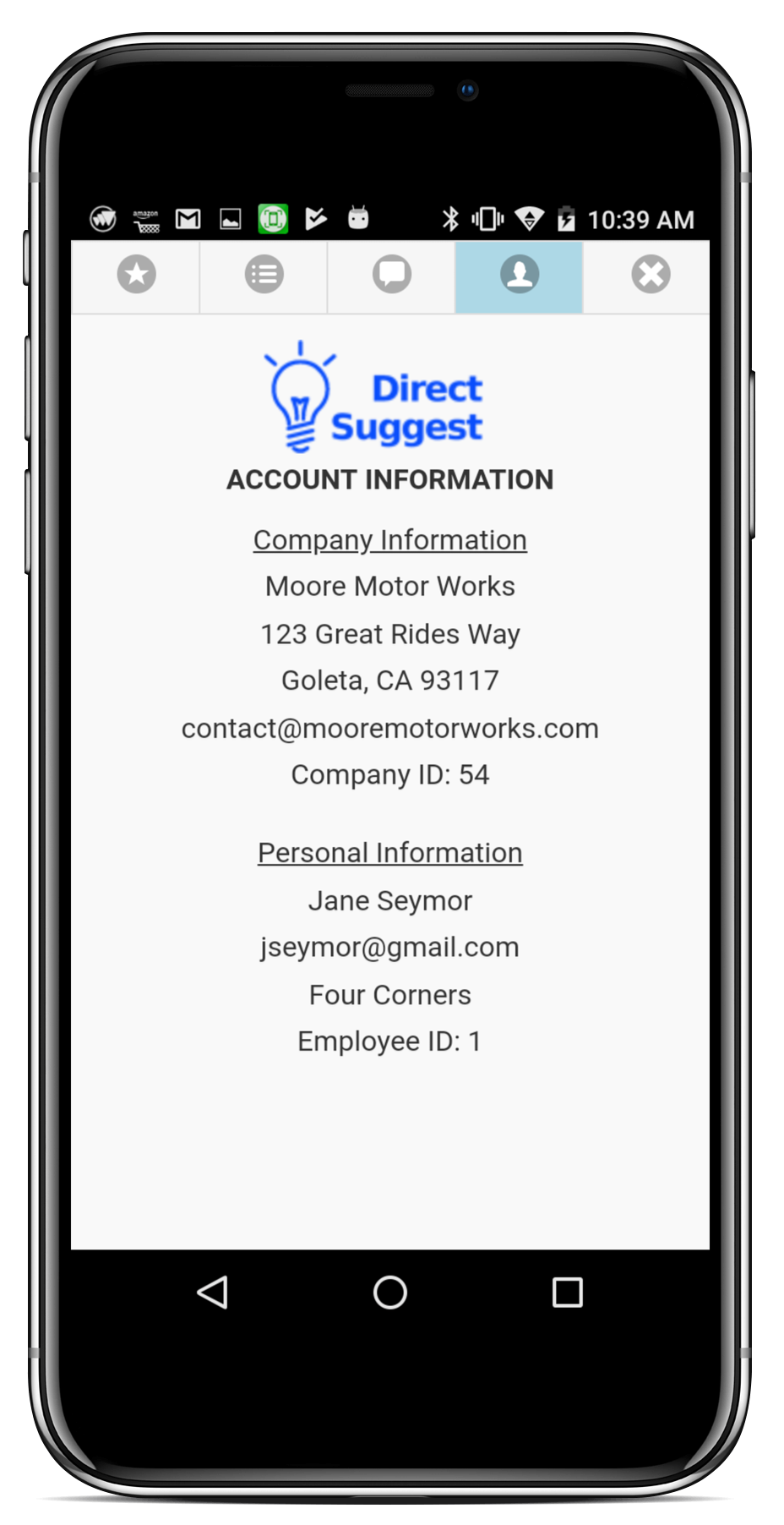 Why Choose DirectSuggest?
DirectSuggest connects your decision makers directly to your employees and makes it simple for an employee to make suggestions. Using any computer or device, employees are able to make suggestions that could benefit your business in a range of ways. DirectSuggest is the cloud-based version of the old fashion "suggestion box" with the assurance that ideas actually arrive where needed. Getting suggestions from the employees of your business is something that has been found invaluable by more than a hundred companies featured on a well-known broadcast undercover reality television show. Each DirectSuggest suggestion is linked to the employee who made that suggestion and is delivered to the correct key decision maker. This prevents suggestions being "lost" at an intermediate managerial level in your business. It also allows decision makers to identify employees who could be valuable missing assets. In addition, DirectSuggest has a ranking system which allows all employees to vote and comment on suggestions. This encourages employee engagement through gamification and assists decision makers.
DirectSuggest makes it easy for employees to improve your business with their hands-on knowledge as well as giving you the ability to scout great talent.

DirectSuggest can be acquired for no more than 50 cents per employee. Pricing is based on number of employees (FREE for organizations with under 50 employees).

DirectSuggest has a straight-forward user-defined matrix that assigns the proper decision maker to a set of filters to ensure that all suggestions are correctly reviewed. Allows you to set up who sees the suggestions to ensure that all suggestions are received by the proper person in your company.

DirectSuggest provides Excel CSV (.csv) file templates for importing company information making no business too large.

DirectSuggest optionally allows anonymous suggestions.

DirectSuggest helps connect knowledgeable employees to management through the suggestions that they make. Create an employee incentive program to get the most out of DirectSuggest.

DirectSuggest provides a web portal for administrators to setup and maintain departments, locations, employees, and gatekeepers. There are separate web pages for gatekeepers to receive, review, and reply to suggestions.

DirectSuggest has both a mobile app and web pages for employees to send suggestions and review suggestions made.

DirectSuggest has a built in voting and comment system for suggestions encouraging employee engagement.
How it Works
DirectSuggest is the new and improved electronic version of the company 'Suggestion Box'. Connecting employees directly to the correct decision makers is made easy by routing suggestions using an administrator defined two-dimensional array. Front-line employees, who are the heart and soul of every company, are able to share their experiences with the correct managers. Employees can collaborate and engage with each other by voting and commenting on the suggestions. Getting hands on suggestions from the workers in your business has been found to be invaluable by well-known companies such as NASCAR, Dutch Bros. Coffee, MGM Grand, and Popeyes Louisiana Kitchen as seen on a popular broadcast undercover reality television show. These suggestions not only identify possible improvements but also employees that could be valuable hidden assets that have fallen through the cracks. DirectSuggest allows them to improve your business with their hands-on knowledge as well as provide the company another tool to discover great employees within your business.
DirectSuggest uses a two-dimensional delegation system (i.e. department and location) to ensure the suggestion gets to the right person. Gatekeepers are assigned to each of these identified areas and DirectSuggest automatically sends related suggestions to the correct person. Setting up DirectSuggest is easy using Excel CSV (.csv) files. Simply export your current employee database, setup a department list, and identify the gatekeepers for the company and DirectSuggest is ready to go. DirectSuggest's benefits can all be acquired for no more than 50 cents per employee.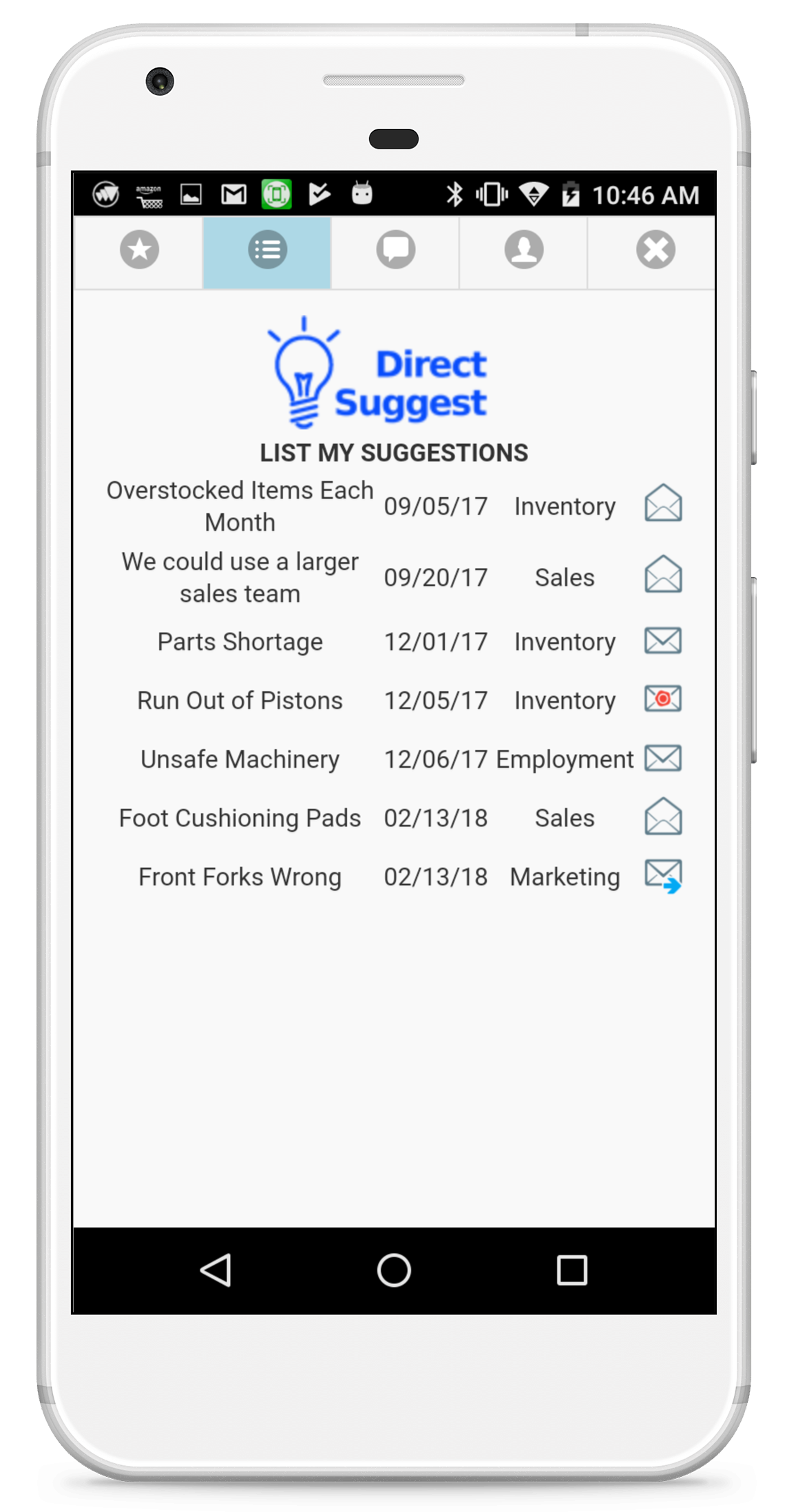 Rate Calculator
DirectSuggest is calculated on a per employee per month basis. Use this calculator to determine what the monthly fee will be for DirectSuggest. The per employee rates are shown in the table below. The rate per employee goes down as the number of employees increases. Enter the number of employees who will have access to DirectSuggest to make company changing suggestions. DirectSuggest is free for organizations with 50 or fewer employees.

DirectSuggest does not store any credit card information. All credit card data is stored by our PCI DSS secure payment processor, Braintree by PayPal.
| Minimum Employees | Maximum Employees | Rate per Employee | Monthly Max Charge |
| --- | --- | --- | --- |
| | | | |
| 0 | 50 | $ 0.00 | $ 0.00 |
| | | | |
| 51 | 99 | $ 0.50 | $ 45.00 |
| | | | |
| 100 | 499 | $ 0.45 | $ 200.00 |
| | | | |
| 500 | 999 | $ 0.40 | $ 350.00 |
| | | | |
| 1000 | 2499 | $ 0.35 | $ 750.00 |
| | | | |
| 2500 | 9999 | $ 0.30 | $ 2,500.00 |
| | | | |
| 10000 | 10000000 | $ 0.25 | $ 10,000.00 |
New and Improved
DirectSuggest is pleased to announce a new pricing plan and several notable upgrades.

Tiered pricing is never more than 50 cents per person per month and the rate is reduced as the number of employees increases. DirectSuggest is still free for companies of 50 employees or less.

New major upgrades:
Employee engagement through voting and commenting gamification.
Suggestion and voting summary reports.
Stand-alone login page for staff bookmark.